2015 GMC Acadia for sale in St. Charles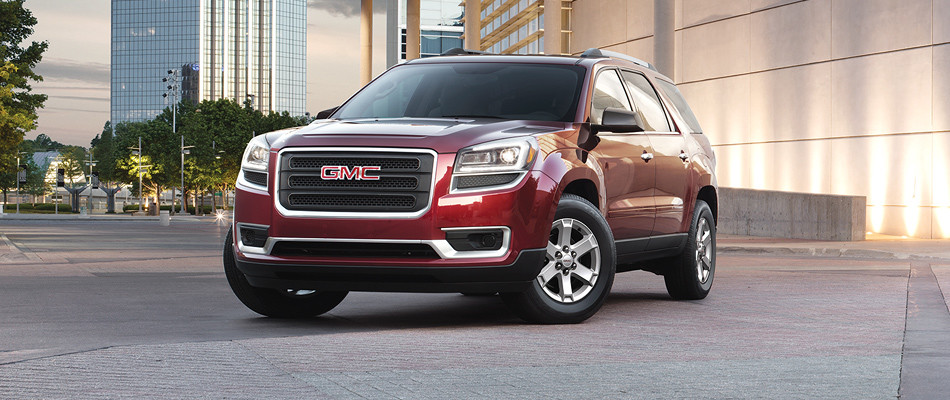 View 2015 GMC Acadia Inventory
2015 GMC Acadia for sale in St. Charles
The 2015 GMC Acadia for sale in St. Charles is a testament to the growth and development that GMC has undergone the past few years. After making a name for themselves with stout, dependable pickup trucks, GMC has branched out. Visit Coffman GMC to see for yourself today.
With the Acadia, GMC has created an eight-passenger crossover that tackles all of your passenger-hauling duties. The 288-horsepower V6 is strong enough for your daily duties, in addition to most heavy lifting you might need done. To those wondering about the Acadia's comfort, worry no longer! One of the Acadia's strength is in its carefully-designed and meticulously-tuned suspension - it offers a balanced, comfortable ride, even when you're putting it through the paces.
In a lot of ways, the Acadia presents a lot of the comforts and conveniences of a minivan, yet it retains the unique appeal of a crossover utility vehicle. Its abundant interior space, folding third-row seating, and optional rear-seat entertainment systems certainly inspire jealousy among some minivan owners. With the second and third row folded down, the Acadia stuns you with 116 cubic feet of space. That's plenty of room for groceries, activities, and even tools.
On top of this, the Acadia offers an impressive host of conveniences, easily enough to make you reconsider that minivan you've had your eye on. Audio and cruise controls are mounted on the steering wheel (leather-wrapped wheels are available, by the way); cupholders are offered for front seats, second row, and third row; GMC's Destination navigation ensures that you'll reach your journey's-end in one piece; lastly, the Acadia's rear parking sensors ensure that you'll have no problems squeezing into that last spot at work.
The 2015 Acadia received excellent crash-test scores, which is a testament to GMC's dedication to keep you and your passengers safe. GMC made blind-spot monitors standard two years ago, as well as the Acadia's anti-lock brakes, traction and stability control, rearview camera, and side and curtain airbags that reach the third-row seat. Dusk-sensing headlights will cover for you in case you forget to turn them on, which will both keep you safe and keep you out of trouble.
The 2015 GMC Acadia for sale in St. Charles is nothing short of an amazing machine, both in and of itself and as a testament to GMC's development. Their collective hard work and dedication fostered a vehicle that is sure to make minivan owners jealous, and they did it just for you. Visit Coffman GMC today to test drive a 2015 Acadia!
Directions to GMC St. Charles
Contact us about the 2015 GMC Acadia