2017 GMC Terrain near Montgomery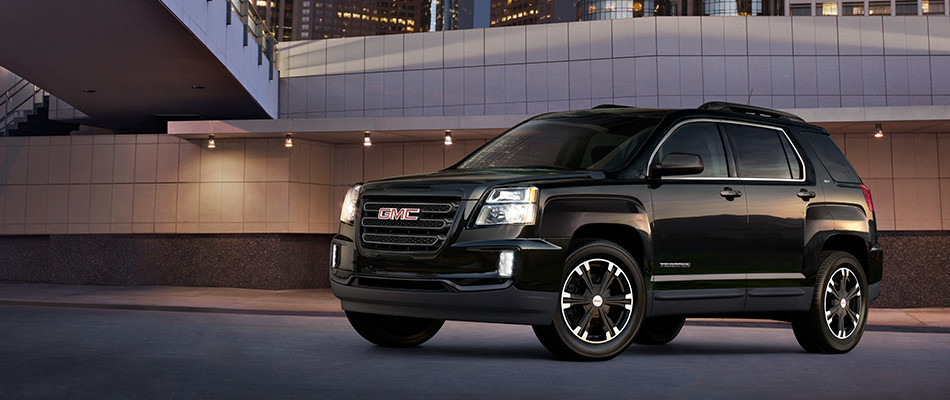 View 2017 GMC Terrain Inventory
2017 GMC Terrain near Montgomery
The 2017 GMC Terrain proves the age-old adage that good things come in small packages. While not the largest SUV that's available, the GMC Terrains for sale near Montgomery offer plenty of power and room. It also comes with a host of driver-assist features, which only adds to the compact SUV's allure.
V6 Power Available in a Compact SUV
In an age when many crossovers and smaller SUVs only come with four-cylinder engines, the GMC terrain gives drivers an option to go small without sacrificing power.
An available 3.6-liter V6 engine produces 301 horsepower and 272 pound-feet of torque, which is enough to get the SUV up to 60 miles per hour in 6.7 seconds when no trailer is attached. Alternatively, the Terrain can tow up to 1,500 pounds with ease when equipped with this engine.
At the same time, the V6 engine manages to get an EPA-estimated fuel economy of 28 miles per gallon on the highway when paired with all-wheel drive. That's impressive for any V6 engine, but it's especially noteworthy when paired with all-wheel drive. There are four-cylinder all-wheel drive models that don't do as well on fuel.
Second-Row Comfort Despite Its Size
When you look at a new 2017 GMC Terrain that's for sale near Montgomery, take some time to sit in the back seat. You'll notice that the rear seat is both spacious and comfortable, thanks to its:
39.9 inches of rear leg room
almost 8 inches of up-and-back sliding room
reclining backrests
Admittedly, the back seats are an odd item to highlight in a vehicle. Perhaps that's because most vehicles -- including many larger SUVs -- don't have spacious or comfortable back seats. The GMC Terrain does, and these seats are a significant reason why many drivers in Montgomery love the GMC Terrain.
Driver-Assist Features That Come Standard
In addition to all of this, the GMC Terrain has a number of driver-assist features. Some of the standard features that all 2017 models come with are:
side blind zone alert
rear cross-traffic alert
lane departure warning
forward collision warning
ultrasonic rear parking assist
Because these features come standard, you don't have to choose between safety and price when purchasing a new 2017 GMC Terrain. You can select whatever trim level includes the comfort-oriented features you want and fits in your budget, and you can trust that it'll have a number of driver-assist features to help keep you and yours safe on the road.
Before you purchase a compact SUV, come see the specials we currently have on GMCs that are for sale near Montgomery. At 1149 Lake Street in Aurora, our dealership is easy to get to, and we have a full selection of new, used and certified pre-owned GMC Terrains in stock. Let our salespeople show them to you, and see if you don't fall in love with the Terrain's combination of power, interior space and safety features.
Directions to GMC Montgomery
Contact us about the 2017 GMC Terrain