2019 GMC Sierra 3500HD near Geneva, IL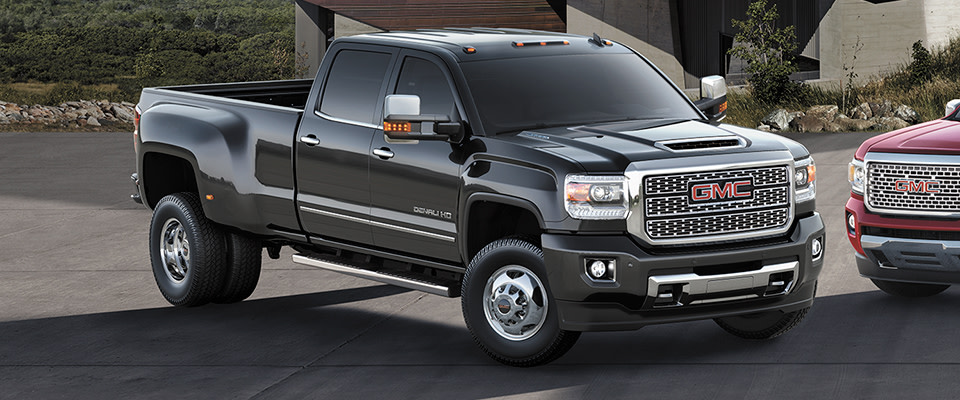 View 2019 GMC Sierra 3500HD Inventory
2019 GMC Sierra 3500HD For Sale Near Geneva, IL
The 2019 GMC Sierra 3500HD is made to get demanding jobs done. Its available 6.6-liter Duramax Diesel can tow upwards of 23,100 pounds, and an optional All-Terrain HD package ensures the truck can go just about anywhere. These big features aren't all that make this pickup special, though. The 2019 GMC Sierra 3500HDs for sale near Geneva, Illinois also feature a number of exterior details that might seem small but make a big difference when you're out working.
Hood Scoop Induction Maximizes Diesel Horsepower
First, each of the 2019 Sierra 3500HD's Duramax Diesel engine options come with a hood scoop induction system that adds an edge both a visual and a functional edge. The hood-mounted opening simply looks imposing, and it helps maximize the diesel engine's output by bringing cooler air in. The added horsepower you get as a result is noticeable when hauling heavy loads.
Premium Trailering Mirrors Guide When Towing
Second, the optional premium trailering mirrors are a must-have if you expect to tow frequently. These mirrors don't just extend out farther to afford greater visibility, but they also come with LED rear guidance lights and amber axillary clearance lights. The former lights help you see when backing up in low-light conditions, and the latter serve as guide lights as you go into tight spaces.
The mirrors are also power-folding, so they'll retract even if you forget to push them in after parking on the street.
Corner Step Rear Bumper Offers Easy Bed Access
Third, all2019 GMC Sierra 3500HDs for sale near Geneva, IL come with corner step rear bumpers on each side of the truck bed. A pair of steps that's molded into the fender, this makes accessing the bed much easier. You don't have to put the tailgate down jus to secure a strap or retrieve a tool that's back there.
High-Strength Steel Bed Provides Long-Term Durability
Fourth, the 2019 GMC Sierra 3500HD's bed is made differently from how most pickup beds are formed, and the difference has a significant impact in the bed's strength.
Rather than making the bed from stamped steel as is common, GMC relied on a rolled steel manufacturing technique that allows for a higher-grade and stronger steel to be used. This results in greater durability, so you can stow the heaviest payloads and still trust that the bed will hold up well for years. Other beds might give way if they were continually abused the way the 2019 GMC Sierra 3500HD's can be.
Upper Tie-Down Hooks Help Secure Loads
Finally, the 2019 GMC Sierra 3500HD doesn't just have four lower tie-down hooks in its bed, like most trucks int he class do. In addition to these, the 2019 Sierra 3500HD also has two upper tie-downs at the back of its bed. When hauling large or tall loads, these hooks make securing everything a lot more simple.
Try Out the 2019 GMC Sierra 3500HD
If you're looking for a heavy-duty pickup that's easy to use, see for yourself how big a difference these small details make. Come to Coffman GMC, and take one of the2019 GMC Sierra 3500HDs we have for sale near Geneva, IL on a test drive. In addition to exploring the cabin and getting a feel for the truck's maneuverability, you can also test out these mirrors, steps, hooks and other features.
When you're ready for a test drive, simply drive down to our dealership at 1149 S. Lake Street Rt. 31, Aurora, IL 60506. Our sales team is here Monday through Saturday and ready to assist you.
Contact us about the 2019 GMC Sierra 3500HD
Sales Hours
630-892-7093
| | |
| --- | --- |
| Monday | 8:00 am - 6:00 pm |
| Tuesday | 8:00 am - 6:00 pm |
| Wednesday | 8:00 am - 6:00 pm |
| Thursday | 8:00 am - 6:00 pm |
| Friday | 8:00 am - 6:00 pm |
| Saturday | 8:00 am - 12:00 pm |
| Sunday | Closed |